Half-Staff Notifications Sign Up
Provide email information to receive alerts from us when the US Flag should be at Half-Staff
Flagpole Sales & Installation
All of our Flagpoles are Made In USA!
We offer the highest quality Fiberglass & Aluminum Flagpoles in a variety of sizes.
Our Flagpole Installations include everything you need for a fully functional flagpole with the appropriate size flag included!
Tax Exempt
We are Fully Insured
We try to keep the process of purchasing a flagpole simple.  There are a few things to consider when purchasing a Flagpole.
Location – where on your property is the best location?  Avoid gas / water lines in ground and Electrical Lines above.  We can help you with this.
Material – Fiberglass & Aluminum are the two most common materials.  Residential applications generally choose Fiberglass while Commercial applications lean more towards Aluminum.
Size / Height  – Options range from 15'-100'. The most common size Residential Flagpoles are 20' & 25'.
Halyard (Rope) – External option where the halyard is located outside the flagpole vs Internal option where the halyard is located on the inside of the flagpole.
Wind Speed Ratings – This is particularly important in windy locations.
There are a few more options which would be discussed during a site visit or if you visit us in the store!  We will walk you through the process and explain everything in as much detail as you prefer.
Pricing is based on the factors above as well as your location.  Once we have your information, we can provide you with a price quote.
We also offer a variety of accessories and parts for flagpoles.
Flagpole Toppers – Balls & Eagles
Flagpole Hardware / Parts – Cleats, Halyards, Trucks, Internal Cam Cleats,
Flagpole Lighting – Low Voltage, Line Voltage, Solar & More
Flagpole Landscaping
Many of these items are available in our on-line store however call, email or stop by the store if you need further assistance.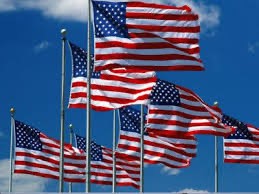 Flags Should Be Flown at Full Staff Today You can always check here for the current status! GBA